New Community Producers and Volunteers
Martha "Mike" Schroeder and Joe Silvia are among the newest LakeCAM Community Producers and volunteers.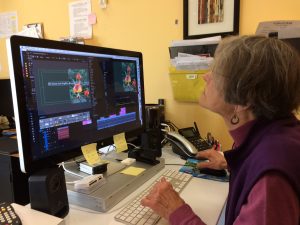 Martha (better known as "Mike") is heavily involved in Lakeville Litter Lifters, chairs the Open Space Committee and leads the Tamarack Park effort, and served on the Conservation Commission. So it seemed natural that she would gravitate to her new project, a series of television programs on "Living With Nature." Martha has taken on the challenge and recently finished her first episode about the indigenous bird species of at Lakeville's beautiful Betty's Neck.
Joe Silvia is an accomplished, award-winning amateur photographer and wanted to take his skills to a new level, in the field of video. Joe has been recording Lakeville Senior Center events, recorded the Lakeville Veterans Day Observances, local lecture series and more! Now, both Martha and Joe have been learning professional editing skills with one-on-one training from LakeCAM's Access and Outreach Manager, Emily Richmond. LakeCAM offers individual training to Lakeville residents who are interested in bringing help and awareness to the Lakeville community.
LakeCAM PSA Days
This year LakeCAM rolled out a new program. LakeCAM sets up a studio, in the Great Ponds Gallery of the Lakeville Library, and invites you to come in and shoot a short Public Service Announcement for their not-for-profit organization, or charity event. LakeCAM then edits your message, broadcasts it on LakeCAM's three cable TV stations (Comcast 9, 20 & 95, Verizon 30, 31 & 32), and gives you a web link for you to share and promote your message. Download an application and make your appointment for the next LakeCAM PSA Day.
High School Internship Program
Three Apponequet Regional High School seniors, Lindsey Mason, Carley Byers, and Aaron Connolly have been training-up with LakeCAM's Eric Anderson this Fall and early Winter.